Explore things to do in and around Kennebunk, Maine
Browse the Beach House Inn's curated collection of activities below, designed to help you explore the incredible Coastal Maine. Both indoors and out, there is a world of activities perfect for exploring.
Below you will find a few of our favorite things to see and do while visiting the Kennebunkport area. If you would like more information, recommendations on other fun activities or assistance with making arrangements, please contact The Beach House Inn and we'll be happy to help you plan your trip.
Apple Picking at Spiller Farm
The Spiller Family has been farming in Wells, ME since 1894, with Bill and Anna farming for over 50 of those years. Their farm is located on both sides of Rte 9A (Branch Road) and covers about 130 acres.
Trail of Terror
Take this terrifying walk through her realm if you dare. The terror begins as we search through the vast forbidden wasteland of ghoulish spooks and specters because the spirits have been awakened. This haunted walk will thrill and change you forever!
Walker's Point
Take a stroll over to Walker's Point, the summer retreat home of the Presidential Bush family. The Point has been the pride of Kennebunkport for years. Located only about 1 mile away from The Breakwater Inn down Ocean Ave it's a beautiful walk offering views of many historic homes and St. Anne's church.
Seashore Trolley Museum
As the largest Electric Railway Museum in the world their collection includes vehicles from almost every major city in the United States that had streetcar systems. The Museum also features trolleys from many other cities across the globe.
Rachel Carson Wildlife Refuge
Bring your binoculars to do some bird watching at the Rachel Carson Wildlife Refuge in Wells, Maine. Established in 1966 the refuge is home to valuable salt marshes and estuaries for migratory birds. Spend the afternoon walking the trials and experiencing the diversity of Maine's great outdoors.
Fort Williams & Portland Headlight
Fort Williams and Portland Head Light: Today the Park is a popular destination for tourists, picnickers, hikers, bicyclists, dog walkers, kite flyers, artists, and many others. It attracts nearly one million visitors each year, who come to visit the Portland Head Light, recreate, and attend numerous special events including The TD Beach to Beacon 10K Road Race, Family Fun Day, and the Labor Day Art Show. Picnic shelters are rented out for private and corporate events, and other sites provide the romantic backdrop of the ocean for alfresco weddings. Admission to the Park is free and open 365 days a year.
Coastal Maine Kayak
Rent a Kayak or Paddle Board from Coastal Maine Kayak in Dock Square. Get out and get active! Paddle down the Kennebunk River to get the best views from the water. Whether you're a beginner or a seasoned expert they'll get you set up to explore on the water.
Kennebunkport Sport Fishing
Enjoy a day on the water fishing or sightseeing Kennebunkport's beautiful coastline, aboard the custom 23-foot Striper Swiper. Captain Greg Metcalf has over 30 years of expertise sportfishing the Northeast. The Striper Swiper has been custom designed and is fully equipped to make your day in Kennebunkport truly memorable.
Mousam River Wildlife Sanctuary
Located in the center of Kennebunk, the 38-acre preserve has over 2,400 feet of frontage along the Mousam River and is convenient to the downtown area. Following a relatively steep initial ascent, the trail levels and winds through mixed forest on a trail blazed in red. Approximately .75 of a mile into the preserve there is a blue blazed scenic vista that overlooks a broad estuary where the Mousam River becomes tidal; there is another overlook at the end of the trail.
Nubble Lighthouse
Along with being an iconic Lighthouse of the Maine Southern Coast Nubble Light is a great location for scuba diving, fishing or just bring a picnic lunch. Sit back and try to spot the great black backed gulls, sun fish and harbor seals.
happynest by maili
The happynest by Maili collection offers an eclectic and unique shopping experience with creative home accents, beautiful accessories and thought provoking goods. Visit us in Old Orchard Beach and Kennebunkport, Maine.
Dock Square
There is nothing more local than Dock Square, just minutes from The Breakwater Inn and The Beach House Inn. Bargain hunters and treasure seekers love the Kennebunks. There's something for every shopper in our seaside community.
Stripers Waterside Restaurant
Located on a lush lawn overlooking the Kennebunk River with most tables offering views of the lobster boats heading to and from the ocean, Stripers Waterside Restaurant is a celebration of Maine's coastal bounty. Savor fresh New England seafood and local classics while feasting on the beautiful sunset views. Dine in the quaintly decorated dining room as fish circle lazily in the nearby saltwater tank or al fresco on the waterside deck. Before your meal, enjoy cocktails and appetizers in the Adirondack chairs on the riverfront lawn.
Batson Brewing
Located just steps from Kennebunkport's Dock Square, Batson River Tasting Room offers samples, a seasonally updated selection of signature cocktails and our current lineup of craft beers in pints and flights of four. When hunger strikes, our menu features a tempting selection of apps and light bites that are perfect for snacking and sharing. Presently, we our outdoor decks and patio are open for your enjoyment.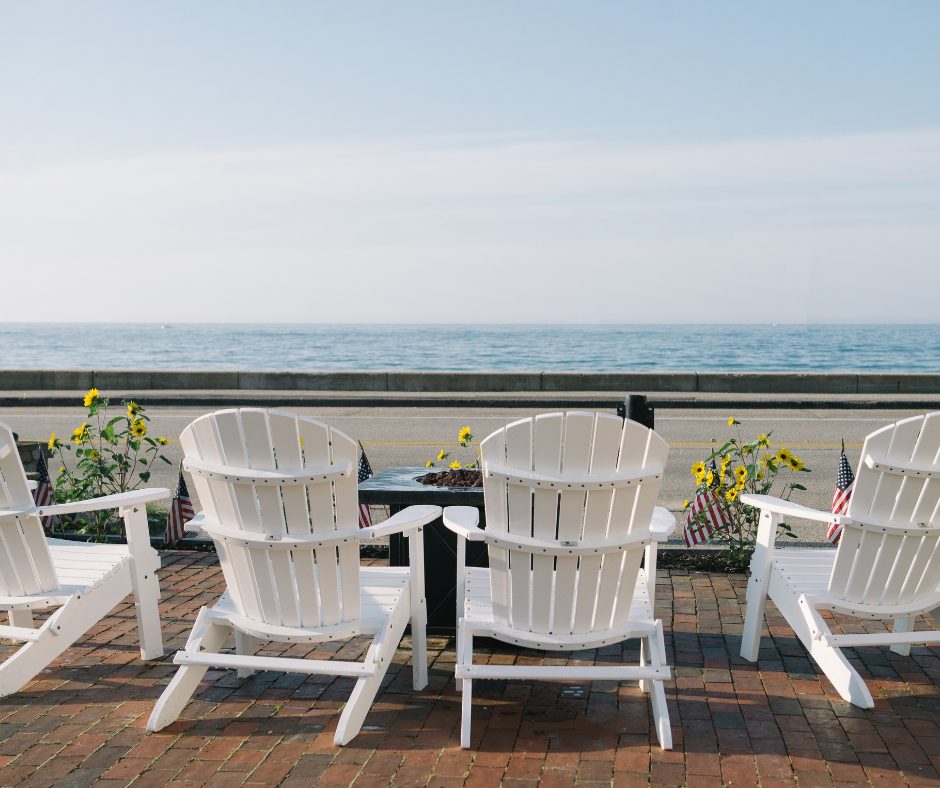 Are you ready to enjoy ocean views and relax by the fire? These amenities and more await you at the Beach House Inn…